Reductil
What is Reductil and what is it used for?
Reductil is a discontinued weight loss medication that has been banned by the EU and no longer available in the UK. Its active ingredient, sibutramine hydrochloride and belongs to a group of medications called serotonin and noradrenaline reuptake inhibitors. It is an appetite suppressant and until 2010, was prescribed as an anti-obesity treatment along with a healthy diet and regular exercise for clinically obese patients (BMI higher than 30). In addition to treating obese patients, the medication was also prescribed for overweight patients whose weight caused them medication complications.
How does it work?
Reductil is a satiety enhancer or an appetite suppressant, so the medication works to control the amount eaten by elevating the levels of neurotransmitters in the brain and increasing the feeling of fullness. Reductil can also increase the rate of an individual's resting metabolism. When you lose weight, your metabolic rate decreases as the amount of food you consume decreases, so the rate your body burns food is slowed down which can have negative effects during weight loss, however prevents this from happening.
helps you feel full quicker with less food helping you achieve your weight loss goals when combined with a low-fat calorie-controlled diet and regular exercise.
Why was it banned?
In 2002, a study was conducted into the safety and efficiency of in obese patients. The trial was carried out over six years following the progress of 10,000 patients comparing Reductil with a placebo. The EU banned the weight loss aid in 2010 due to potentially dangerous side effects found in light of the study as Reductil was linked with an increased risk of heart attack and stroke.
Where can I buy it?
You cannot buy this medication from a reputable source without a prescription, and now that it has been taken off the market, this is no longer possible.
Beware of counterfeit medication sold as Reductil without a prescription as these can have a detrimental effect on your health.
Are there any alternatives?
Xenical is a good alternative which doctors are now prescribing instead of as a high-strength weight loss aid. Orlistat is another option, which is the generic version of Xenical, available at the same strength of the same active ingredient but a lower price.
New weight loss pill Alli is also used as a weight loss aid. It contains 60mg of orlistat and is also available over the counter.
When can Reductil (Sibutramine) be prescribed to help weight loss (obesity)?
can no longer be prescribed as a treatment for weight loss.
It was a prescription only medicine which could be prescribed for obese patients with a body mass index (BMI) of greater than 30 kg/m 2 or for overweight patients with a body mass index (BMI) of greater than 27 kg/m 2 who also have other risk factors such as type 2 diabetes or dyslipidaemia (a disturbance in the levels of fat (lipids) in the blood).
Reductil was only prescribed to patients who had tried to lose weight by diet and exercise for 3 months or more and had been unsuccessful in losing at least 5% of their body weight.
How does Reductil (Sibutramine) work?
operates by its active metabolites inhibiting the reuptake of noradrenalin serotonin and to a lesser extent dopamine.
This action enhances "satiety" or the feeling of being full, and this reduces food intake. In addition Reductil also has a "thermogenic" effect by which it increases the level of calories burnt while at rest, during a weight loss programme.
Reductil comes as hard capsules which are swallowed.
Reductil (Sibutramine) side effects
Like all medicines Reductil (sibutramine) can cause side effects, although not everybody gets them
Common side effects that affect more than 10% of patients include loss of appetite, constipation, dry mouth and sleeping problems. Other less common side effects include fast heartbeats, palpitations, abnormal heart rhythm, high blood pressure, hot flushes, sweating, odd sense of taste, light headedness, pins and needles, headaches and feeling anxious. Rarely it can cause kidney and liver problems, purple leg rash and bruising, seizures, blurred vision, depression, suicidal thoughts, restlessness, hair loss, short term memory loss, impotence and menstrual disorders.
Is Reductil (Sibutramine) for everyone?
(Sibutramine) should only be taken if your doctor has prescribed it for you.
(Sibutramine) is not for use in children below the age of 18 due to the lack of data in this population.
(Sibutramine) is not for use in people over the age of 65 due to the lack of data in this population.
should not be taken by women who are pregnant or breast feeding their baby.
should not be taken by people with a history of common problems including heart disease or uncontrolled high blood pressure, hyperthyroidism, severe liver or kidney problems, benign prostatic hyperplasia and certain types of glaucoma.
" should not be used with caution with certain other medicines (monoamine oxidase inhibitors or other antidepressants or antipsychotic, other weight reduction medicines or tryptophan for sleep disturbances) and you should tell your doctor about all other medicines you are taking when he prescribes Reductil.
How do I get Reductil?
Reductil is no longer available, however, Pharmacy2U offer consultations for weight loss through the Online Doctor service, which could lead to prescription strength treatments being prescribed.
Reductil
Reductil (Sibutramin) var et populært og effektivt legemiddel mot vekttap, og medisinens funksjon var å redusere appetitten for hjelpe overvektige med å gå ned i vekt når trening og sunt kosthold ikke ga resultater. Reductil tablettenes resultater mot fedme var svært gode, men de påløpende bivirkningene førte til at legemiddelet ble trukket fra markedet i 2010. I dag er det bare Xenical som er godkjent for salg mot vektreduksjon i Norge.
Hvorfor ble Reductil trukket fra markedet?
Omfattende kliniske studier har vist at Reductil tabletter kan ha negativ innvirkning på brukernes blodtrykk og hjerte-system. Disse funnene stod i sterk kontrast med tidligere undersøkelser, der man konkluderte med at medisinen ikke utgjorde en betydelig risiko for de som hadde normal kardiovaskulær helse. Dette var også hovedgrunnen til at dette slankemiddelet tidligere ble foreskrevet som en godkjent behandling mot vekttap.
Finnes det noen alternativer til Reductil?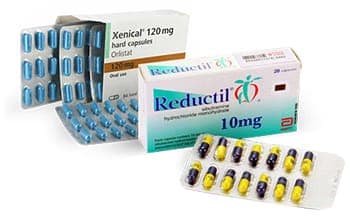 Xenical er det eneste godkjente legemidlet på resept mot fedme og overvekt i Norge, og ansees som et meget trygt medikament. Slankepillene kan derfor brukes av selv høy-risiko pasienter som ofte kan få bivirkninger av nye medisiner. I motsetning til Reductil, som virker i selve hjernen, er denne slankepillen kun aktiv i fordøyelsessystemet. Dette betyr at risikoen for bivirkningene som ofte kan forårsakes av Reductil også er betydelig redusert.
Enkelte forhandlere tilbyr i dag slankepillen Alli, som i likhet med Xenical også har Orlistat som sin aktive ingrediens. Mengden av Orlistat er imidlertid halvvert i Alli-pillen, noe som gjør at den er langt mindre effektiv enn den reseptbelagte versjonen som inneholder 120 mg Orlistat.